Looking for things to do on Maui this 4th of July weekend?  Search no further for a fun-filled Fourth!  From a relaxing day at the beach to eating contests to dancing the night away and of course fireworks, make your choice and declare your independence!
Beach BBQ or Picnic  If your idea of 4th of July fun is surf, sand and sun, hit one of Maui's 30 miles of beaches and claim your spot.  DT Fleming (Kapalua - shown above), Papalaua and Ukumehame Parks (mile markers 11-12) on Maui's west side are extremely popular with locals and drive up access is an added bonus.  South Maui beaches include Kamaole I, II and III, Palauea Beach (aka White Rock), Po'olenalena Beach, and Big Beach in Makena.  Some county beach parks have full facilities including fixed barbecue grills and picnic tables, but you'll have to get there VERY early on any weekend to stake out your spot.  Don't like the odds of scoring a grill?  Stop by Kmart, Wal-Mart, Target  (Kahului) or Ace Hardware (island wide) for portable grills, propane, charcoal and other supplies.  Or stock up on picnic delights at R. Field Wine Company & Fine Foods in Foodland/ Foodland Farms (Maui Lani and Lahaina), The Market by Capische (Wailea), Kuau Market (Kuau near Paia), Aina Gourmet (Ka'anapali), or Whole Foods (Kahului).
Wailuku First Friday (Friday, July 3rd - 6pm to 9pm) – Free family fun!  Maui's original town party closes down Market Street once a month for festivities including live entertainment, local craft vendors, food booths, and a beer & wine garden.  This month's patriotic theme "Wailuku Salutes America" kicks off the holiday weekend.
Lanai Pineapple Festival (July 3rd & 4th – 3pm to 6pm) – Known as the "Pineapple Island," Lanai in its heyday had 18,000 acres planted with the sweet and spiky tropical fruit, and Dole was the largest pineapple plantation in the world.  Rated one of the "Top 10 Best Specialty Food Festivals" in 2014 by USA TODAY, the Lanai Pineapple Festival features crafts, games, live music (including the immensely talented Willie K on July 4th), historic photos, pineapple-eating and dessert contests, and a fireworks show as its finale at 9am on Saturday.  Held at Dole Park (where else?) in the heart of Lanai City.  Since two of the three hotels on the island are currently under renovation, catch the Expeditions Ferry from Lahaina to Manele Bay.  They have also added an extra return trip at 10pm after the fireworks.
 Link:  Lanai Pineapple Festival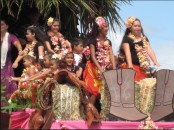 Makawao Rodeo & Paniolo Parade (July 2nd to 5th) – Cowboy up(country) to Makawao Town where cowboys are known as "paniolos" and can still be seen hitching their horses outside the wooden storefronts.  Maui has a rich history of ranching dating back over 150 years and this year marks the 60th anniversary for the largest rodeo in Hawai'i.  The parade on July 4th starts at 9am and comes complete with marching bands, pa'u riders, beauty queens, floats, and local personalities.  Don't miss the stick horse race for keiki at 8:45am!  To avoid street closures, park at Oskie Rice Arena and take the shuttle to Makawao.  It'll get you back to the arena in time for the rodeo that afternoon.  From 1pm to 4pm watch more than 350 cowboys from all over the world ride, rope and wrangle, and then put on your best pair of boots and two-step the night away to country music. Yee hah!
Skydiving Performance & Flower Drop  (July 4th from 12pm to 4pm)
The Red, White & Blue Festival at the Westin Ka'anapali Ocean Resort offers carnival games, a keiki zone, face painting, watermelon eating and hula-hoop contests, a color obstacle run, and more for the resort's owners and guests.  But anyone strolling the ocean front path at just the right time can witness a skydiving performance at 1:30pm (weather permitting) and annual flower drop at 3:30pm above the property when a helicopter showers 80,000 orchids from the sky! 
Lahaina 4th of July Celebration & Fireworks (July 4th from 4pm to 9pm) The former whaling town invites you to enjoy an old-fashioned Independence Day celebration along Front Street which will be closed from 4pm-9pm for an evening of fun, food, shopping, keiki activities, street performers, and live entertainment.  The only public fireworks display on Maui lights up the summer sky at 8pm from a barge offshore, with synchronized music audible near the Hard Rock Café.  View the pyrotechnics from charter boats in the harbor, along the waterfront, or above the fray at Fleetwood's on Front Street while enjoying a buffet dinner on their hip and happening rooftop patio.  Get there early and prepare to wait out the traffic after the show.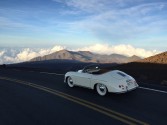 Head for Higher Ground If you'd rather have a root canal than hob nob with the hordes of revelers at Maui beaches and Independence Day events, you're out of luck because your dentist is on vacation and is probably doing just that.  For (relative) solitude and cooler temperatures, take a drive Upcountry to escape the crowds and the heat.  The temperature drops degrees for every 1,000 feet of elevation, so at the Haleakala summit (10,026 feet) it's about 30 degrees colder than at sea level.  You don't need to go all the way to the top to enjoy expansive views and upcountry breezes.  Kula Highway (37) winds its way through lush rolling fields lined with lava rock walls and eucalyptus trees towards Ulupalakua Ranch and Maui's Winery, offering panoramic views of South Maui, Molokini and Kahoolawe.  End the day with a spectacular sunset display from one of the many vantage points along the route.
Dance Your Dust Off  (July 4th from 10pm to 12am) Do you still have spark left in your sparkler?  Wow!  Then head to Casanova's in Makawao for their "Dance Your Dust Off" party with Soul Kitchen beginning at 10pm.  Groove to original songs and eclectic covers by one of Maui's premiere bands along with guest star Joel Katz on the Hawaiian steel guitar. $10 cover.